How To Make Dried Orange Christmas Decorations
How To Make Dried Orange Christmas Decorations For The Holiday Season!
We have started using dried orange slices for our holiday decorations to add to our rustic and simple holiday decor. We absolutely love how gorgeous the orange slice decorations look on our tree and how amazing the sunlight looks through our garland strings. It gives us that warm holiday feeling.
Below I will show you how to make dried orange decorations for Christmas with your dried orange slices. Get easy DIY craft ideas for Christmas tree ornaments, garlands, gift tags, and other easy cute crafts and gift-giving ideas using dried oranges.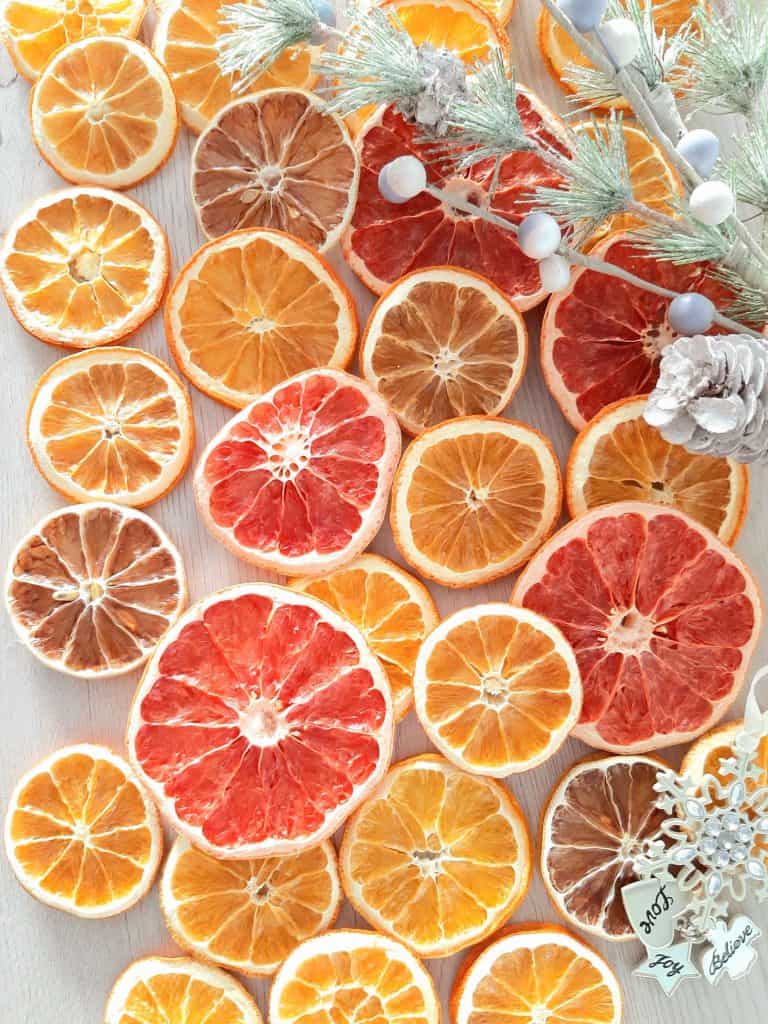 Dried Orange Christmas Tree Decorations
If you would like to make your own dehydrated orange slices you can follow my easy instructions on how to make dehydrated orange slices here. When your oranges are done dehydrating be sure to return back to these crafts for ideas.
Making dried orange Christmas ornaments are one of our favorite things to make during the holidays. You can get really creative with different items to add to your orange slices. I am going to give you some ideas to get started.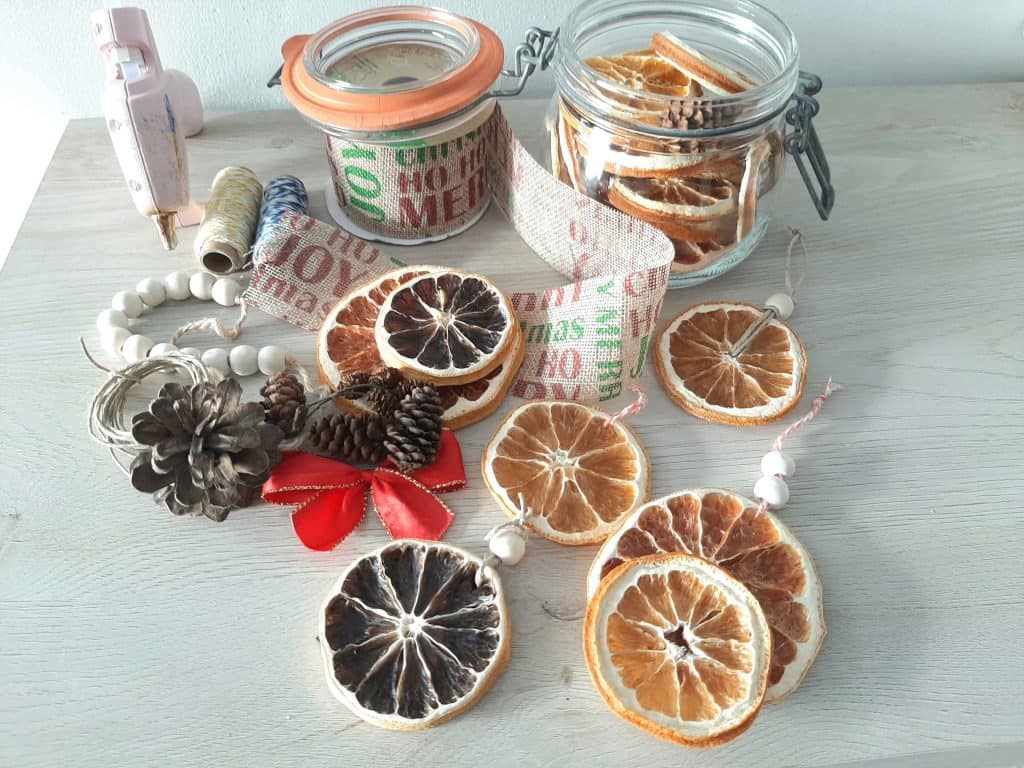 This post may contain affiliate links, which means that I make a small commission at absolutely no extra cost to you. See my full disclosure here.
What you will need to make dried orange Christmas Ornaments:
Dried Orange Slices
Hot glue gun
Jute twine, plain or red & white holiday themed
Cinnamon sticks, small pine cones, ribbons, bows
Scissors
1. Gather Material
To make these simple ornaments start by laying out all your material to see what you have on hand. Lay your orange slices down and decide if you want to make just a simple orange slice ornament with a bead or place some greenery, a cinnamon stick, or ribbon on it. You may even want to glue two or three orange slices together! There are no rules here when it comes to decorating.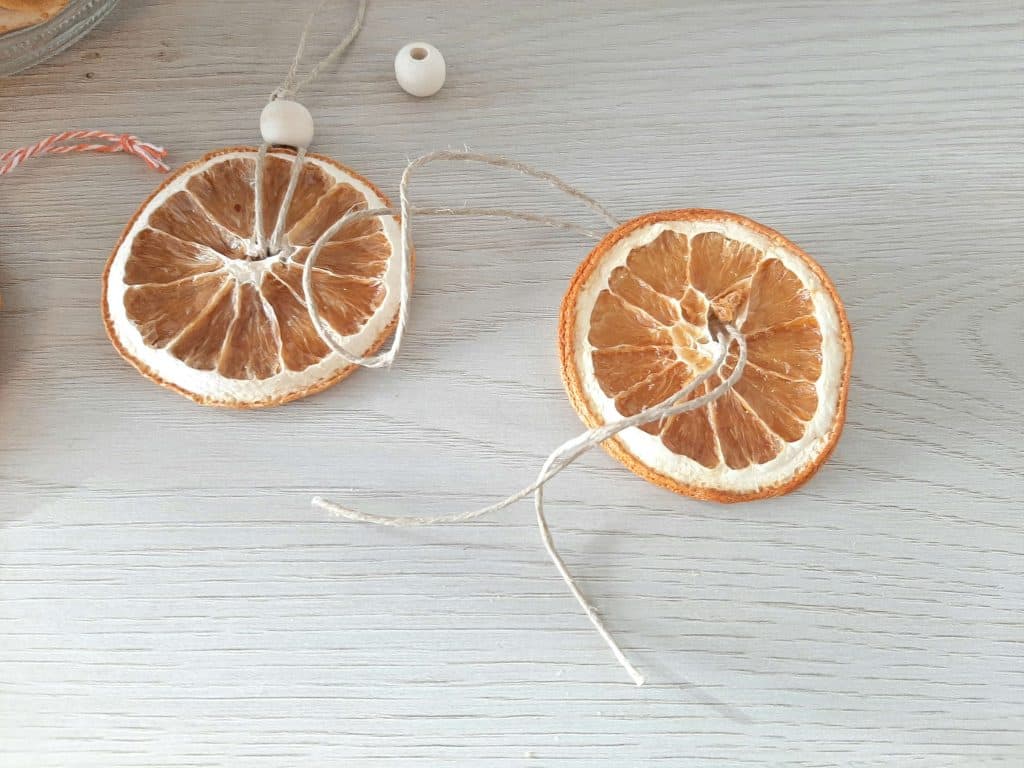 2. Tie Twine On
Measure out how long you would like your twine to be. Take into consideration how far down on your tree branch you would like your ornament to hang. I have also doubled my twine so I could have more twine showing on my orange as well as to hold the wooden bead on. My twine measured about 16 inches long. It's better to have it a bit longer and cut off the extra than to be short of twine.
Make a small hole in your orange slice where you would like to push your twine through. I used the hole that was already naturally there. I like to place my twine lower on my orange so that more of the twine would show on the orange. If you would like yours up higher you can make a small hole just under the orange rind to pull your twine through.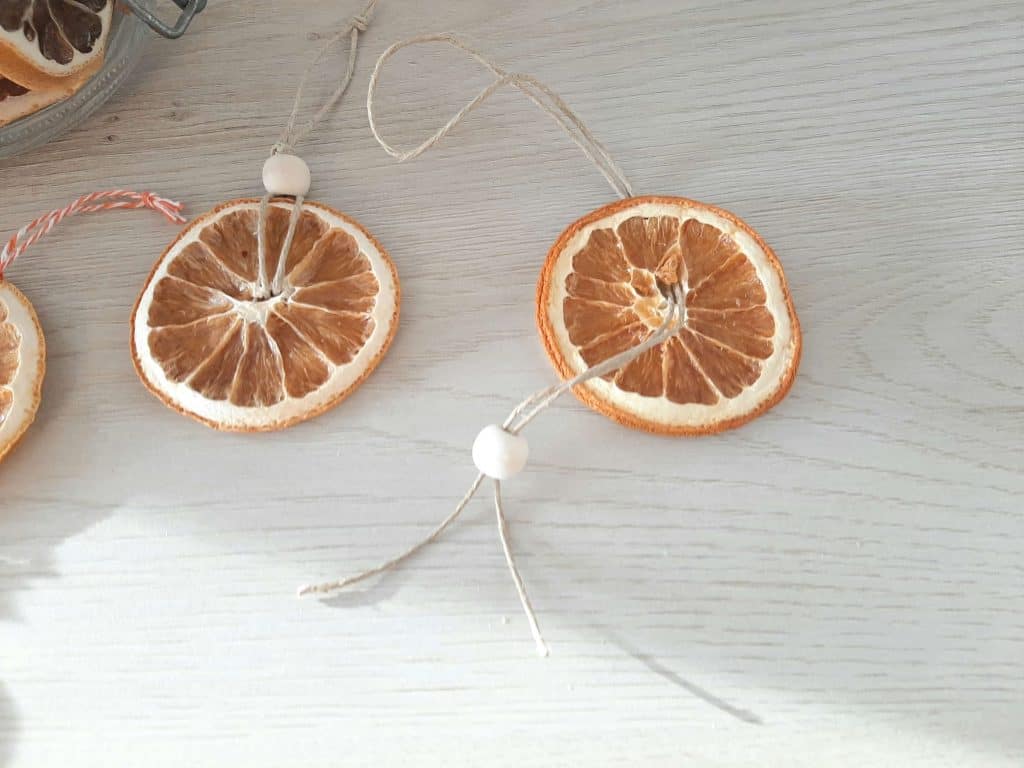 3. Add On Wooden Beads
Next, we are going to add on our wooden bead. Add two if you like. You can add a larger wooden bead on the bottom and a smaller-sized one on top of that one. Thread your twine through the wooden bead and gently pull the bead towards the orange slice.
Take the end of the twine that you just threaded through the bead and put it through the middle of the twine on the other end. Gently pull the twine to tighten it up. While tightening it up be sure to place the wooden bead in place on top of the orange slice.
Tie a knot on top of the wooden bead to secure it in place. You will have the two loose ends of twine left, you will need to make another knot at the end of these to hang your orange ornament up. Cut off any extra twine at the end that's not needed.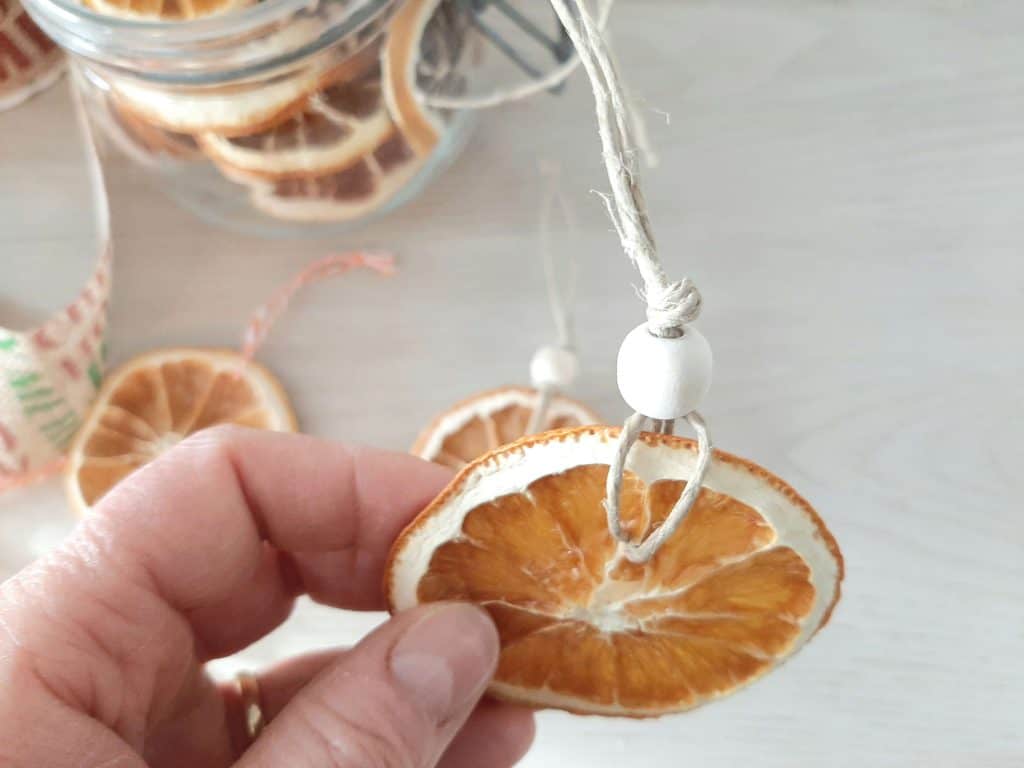 4. Add More Decorations
You can add more decorations to your orange slice or leave it how it is. In the picture below I show a few of the dried orange Christmas ornaments that we have decorated. We used a dehydrated grapefruit for a larger slice and glued a smaller orange slice to that. We added 2 beads at the top with some red and white Christmas twine.
My daughter placed a wooden bead between two different colored slices that hang from each other. It's nice to have a variety of different-sized citrus ornaments.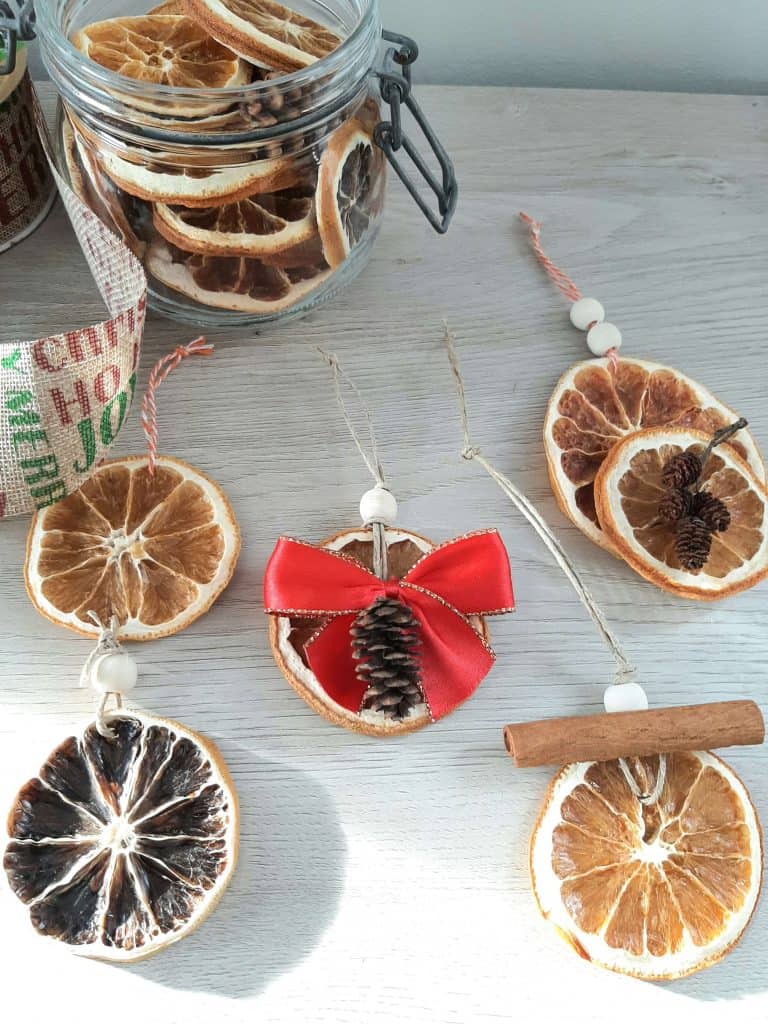 5. Hang On Tree
Yaaa! You're done. Now you can hang your dried orange Christmas decorations up on your tree and enjoy their beauty.
Make a bunch of these dried orange decorations and give them as gifts to friends and family.
How To Make Dried Orange Christmas Decorations
Now you know how to make dried orange Christmas ornaments. They are simple, fun, and beautiful to create year after year!
If you love this dried orange Christmas decorations tutorial, please give it a five star review and help me share it on Facebook or Pinterest so that others can enjoy it too!
Print
How To Make Dried Orange Christmas Decorations
Get easy DIY craft ideas for Christmas tree ornaments, garlands, gift tags, and other easy cute crafts and gift-giving ideas using dried oranges for decorations. 
Yield:
6
Dried Orange Decorations
Equipment
6 Dried Orange Slices

Hot Glue Gun

Jute Twine

Wooden Beads

Cinnamon Sticks, Pine Cones, Ribbon, Greenery
Instructions
1. Gather Material

2. Tie Twine On

3. Add On Wooden Beads

4. Add More Decorations

5. Hang On Tree